The world is a new and exciting place for your baby, and they are learning every day. You can support their development by choosing toys that excite their senses and fuel their exploration. We've pulled together a few of our favourite sensory and development toys to help you.
What are sensory toys?
Sensory toys stimulate one or more of your baby's 5 senses. Sensory toys for children come in all shapes and sizes and can be large and outdoor like a trampoline or small and portable like fidget toys. It may be that they light up or incorporate a range of shapes, colours, movements, textures and sounds. They will also help your child to develop their concentration and sensory skills and understand the world around them.
What are sensory toys used for?
Fine motor skill development is an important part of your child's early years. Sensory toys stimulate your baby, encouraging them to practice skills like reaching, grasping, pushing, pulling and letting go. As they play, they are improving their hand-eye coordination as well as a range of fine and even gross motor skills.
Read more about how to improve your baby's fine motor skills.
Sensory toys are also a fun way for your baby or toddler discover new textures, sounds, shapes, colours and smells. They can help children develop their body awareness and balance.
By talking about these new and interesting discoveries: shape, colour, size, texture and action, 'push', 'pull' or 'press', for example, you can use sensory toys to develop your baby's language skills.
For toddlers and older children, fidget toys - small toys that keep a child's hands busy with repetitive action, can help focus concentration and reduce anxiety in new or overwhelming environments
What are our best learning toys for toddlers?
The perfect size for little hands to grasp – the Nuby Sensory Toys Set combines shapes, textures and colour into the perfect toy for sensory play. Whether the game is just feeling the different shapes and textures with their hands or mouth, stacking, sorting or learning numbers this set encourages sensory development.

Each educational bundle includes 5 balls, 6 cubes and 4 cute animal characters, in fun, bright colours. This multifunctional toy is a great way for you to introduce counting, colour, shape and sorting: 'How many red ones are there?' and language: 'What animal is this?'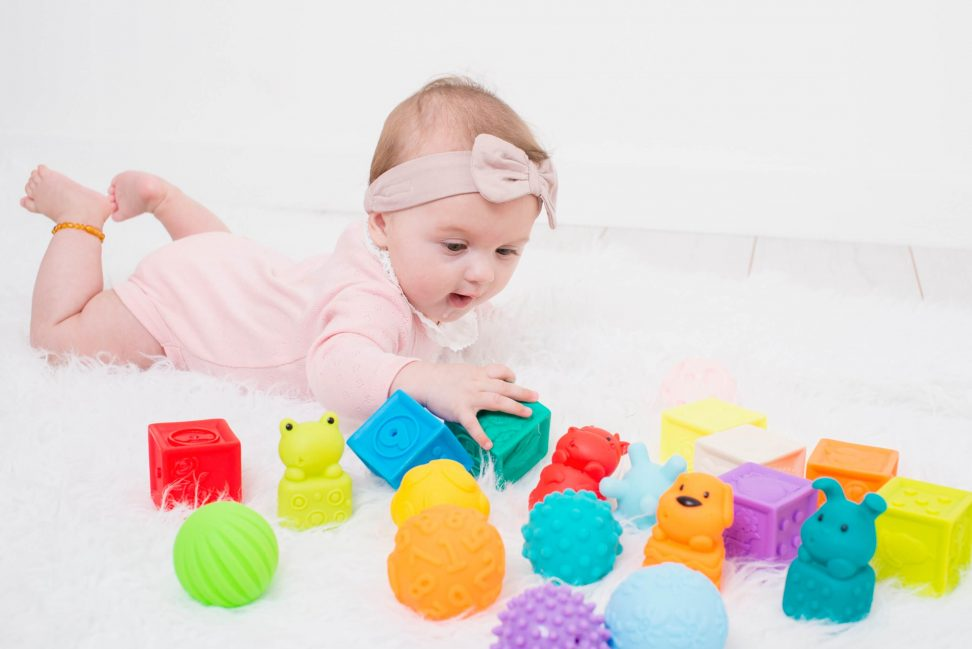 If you love popping bubble wrap, you're not alone. Simple, repetitive activities can give our minds a much needed, enjoyable break. They can help us overcome boredom, leaving us feeling refreshed and ready to concentrate.

In the same way, small, portable tactile sensory toys like the Nuby My Busy Book can provide a soothing 'fidget toy' distraction for your child, whether this is to alleviate boredom on a long car journey or help them stay calm in a noisy or new environment.

The buckles, laces, buttons and more in this bright, plush toy will keep your little one focused and amused, giving the bored or fussing toddler a soothing and familiar task to focus on.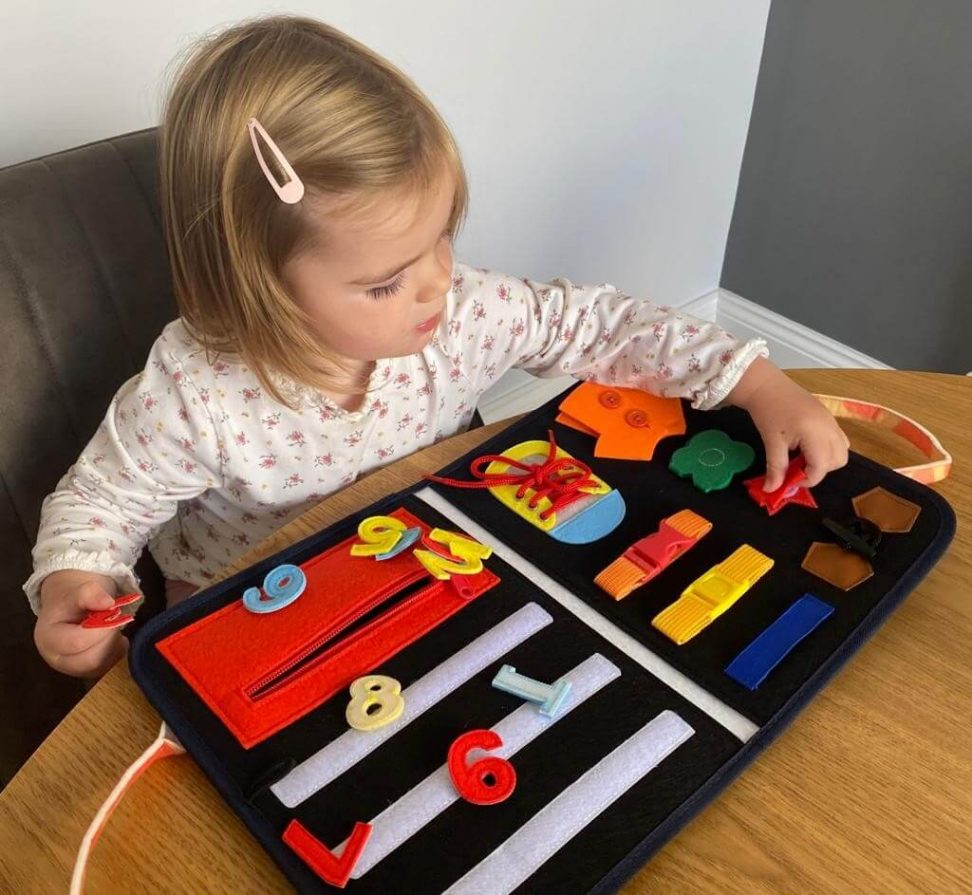 Your baby will love exploring the different patterns and textures of the Little Learner Cubes – a 4 piece padded educational activity block set. The blocks incorporate different colours, noises, textures – including crinkle, rattle, shiny ribbon tabs and a little mirror. The design of the blocks means that they are a fun way to introduce him or her to sensory play, stacking blocks and about relflections, animals, numbers and colours, supporting their language development.
As your baby moves to sitting, standing and then walking, an adaptable baby walker like the Nuby Interactive Baby Walker will help them find their feet. Suitable from 6 to 36 months, with three easily adjustable stages from sit and play to stand and play and on to walking, it has removable shapes and buttons for sounds and lights. Also included is a remote for adults to control music and sounds for added enjoyment.
While it may seem a simple activity, stacking teaches your baby important lessons about cause and effect as well as helping them improve their fine motor skills that will later help them draw and write. Soft and made of smooth silicone, the Avocado Stacking Toy is perfect for small hands, adding a sensory experience to the activity of stacking, and double up as a teether.
Getting hands on with sensory play is an important part of your child's learning. Take a look at our full range of toys for more ideas.
---