From play mats to rattles, baby swings and wooden baby walkers, there are lots of options for keeping your little one entertained.
We've picked out some of the best fun-filled toys for every stage of your baby's development.
Toys for newborn baby
When your baby is first born, he or she can't do or see much but everything is developing fast and before you know it, baby will be grabbing, watching and listening to everything around.
Bouncer chairs are a must-have in those early days for freeing up your tired hands and arms and keeping baby entertained.
This cute cloud and star themed Musical Baby Bouncer is one of our favourites for newborns until they weigh 9kgs. The bouncer comes with toys to stimulate your little one and a three-point safety harness to keep baby safe and secure. There are even 10 relaxing melodies available to lull baby to sleep when they've had enough of all the fun.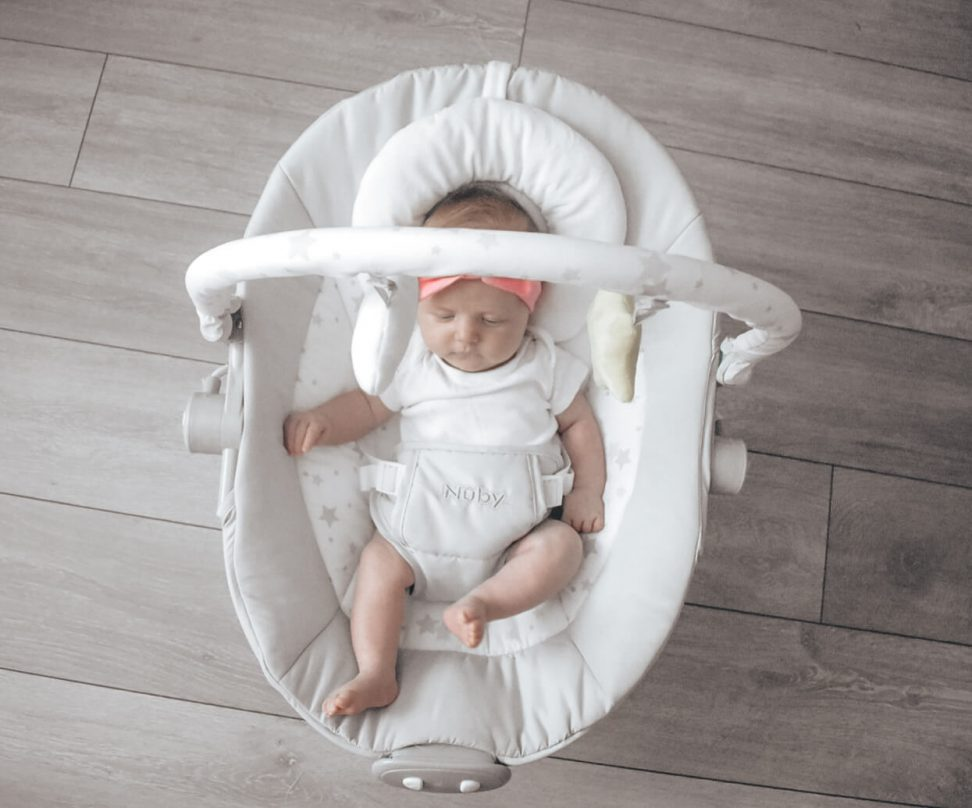 Baby gyms are perfect for giving tiny people a workout, fine-tuning hand to eye co-ordination skills and stimulating growing brains.
This interactive Wooden Baby Gym is one of the best around, featuring interactive hanging animal toys and made from 100% wood from well-managed forests.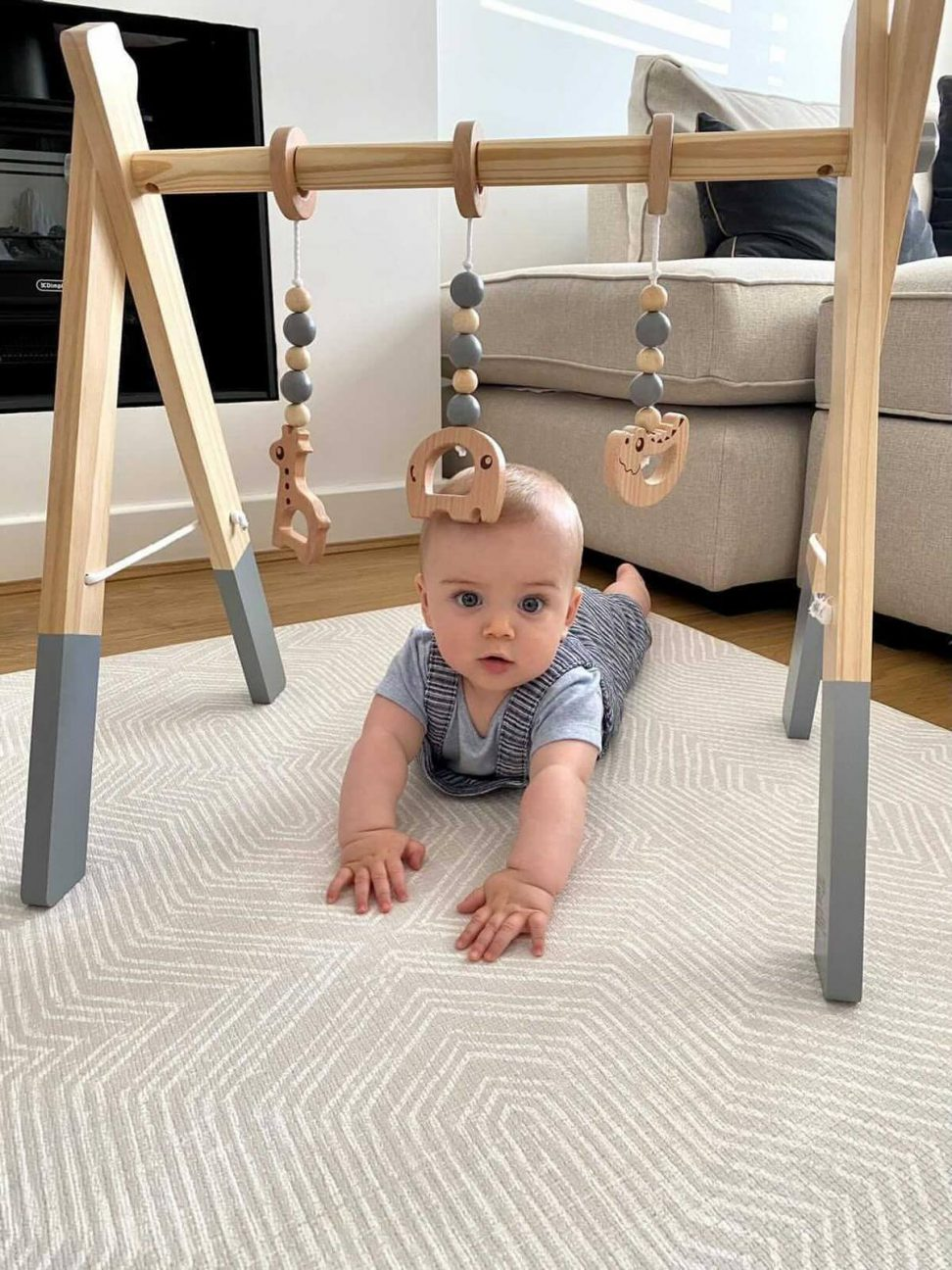 Alternatively, our Penguin Interactive Play Activity Gym features a cushioned mat with padded sides to keep your baby comfy while they chill and relax. Attachable arches feature interactive characters perfect for when your baby wants some fun and is developing co-ordination and senses.
A baby swing is an essential item for any nursery, giving mummy and daddy some much-needed rest and giving baby some relaxing rocking time. Nuby's Motorised Baby Swing comes in soft neutral colours and has five different speed functions to suit your baby's mood. As well as playing a selection of calming melodies and sounds, the swing also has a Bluetooth® function so you can choose the tunes.
Pram toys are great for keeping baby amused when you're out and about and this Activity Spiral Travel Pram Toy is a great addition to any pram or buggy.
Tummy time builds baby's neck and shoulder muscles in preparation for crawling and walking. Our super soft squishy Cloud and Star Tummy Time Pillow with teething ring and squeak and rattle toys is the perfect place to relax for tummy time.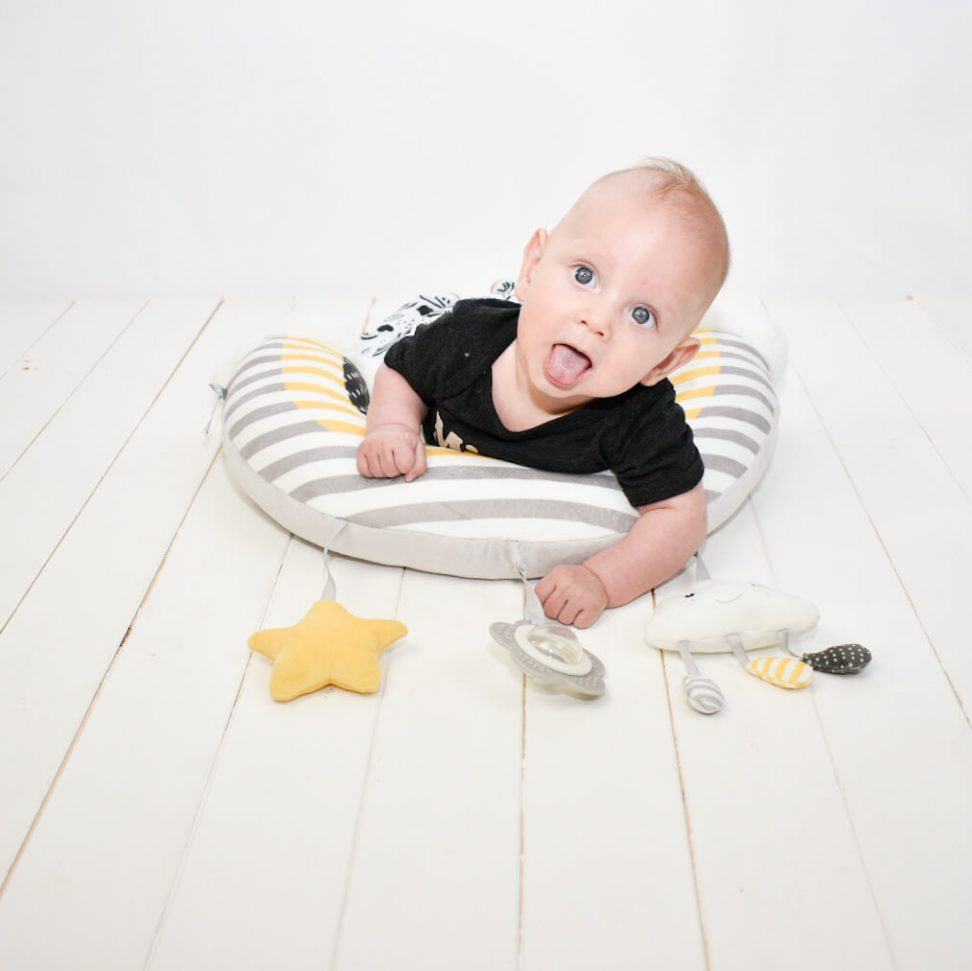 Check out Nuby's range of nursery toys to help your baby as they grow.
Toys for 1 year old
Bath time toys bring extra fun to magical memories splashing around in the bath. Nuby's Splash and Catch fishing net is a classic toy that always proves popular.
When you're a little wobbly on your feet, you need a baby walker to help you strut your stuff. Nuby's wooden baby walker is solid and able to cope with all the action, as well as being jam-packed with interactive toys to keep wanna-be-walkers happy for hours!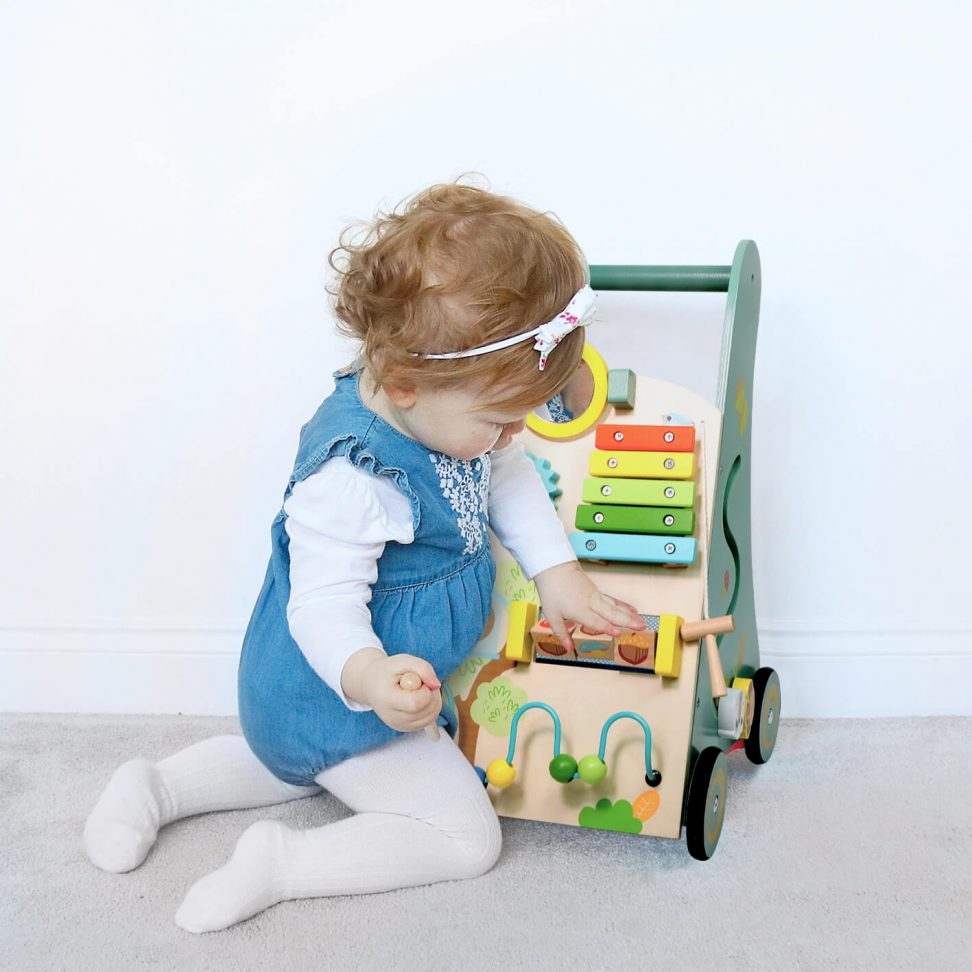 Play tables are a great way to encourage creative play. Nuby's Sand and Water Play Table can be used indoors and outdoors and has loads of accessories to keep your little one entertained.
Toys for boys and toys for girls
Filled with 200 balls the Nuby velvet ball pit is available in a choice of pink and grey or turquoise and grey. Let them choose their favourite colour and bring softplay home. This dep-sided plush ball pit is the perfect toy for your little boy or girl. Its washable cover means that it is easy to keep clean to maintain its attractive appearance.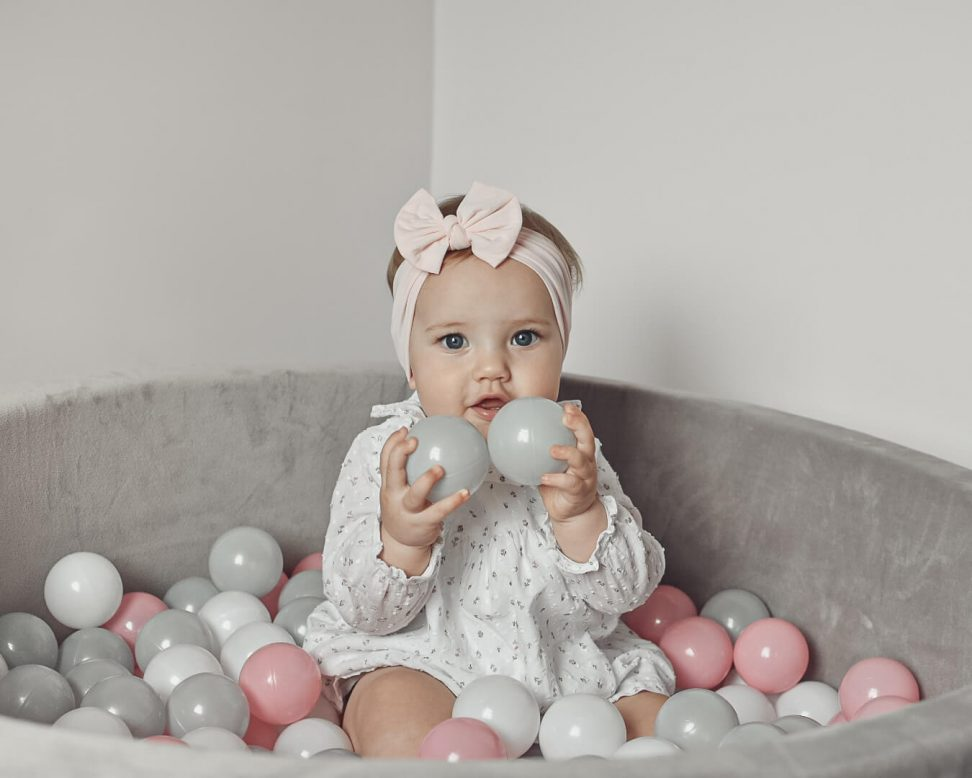 All of our toys are a vibrant mix of textures, colours and shapes that boys and girls will love. As your child grows and becomes more active, toys like the musical activity cube, bath toy cog set and Nuby activity table will help them extend their play to include role playing, improving their coordination and problem solving.
Find out more about Nuby baby and toddler sensory and development toys to stimulate your child's learning.
How to clean baby toys
Baby's toys need to be cleaned regularly to keep them free from germs, allergens and mould.
Soft toys such as teddies may be machine washable. If so, stick them on a wash cycle with a gentle detergent that's suitable for babies on a weekly basis. If not, lightly hand wash and dry naturally.
Hard plastic toys should be washed regularly in hot soapy water – particularly those baby puts in their mouth. Some solid plastic toys are dishwasher-safe so they can be washed in the dishwasher when required.
For wooden toys remove all surface dirt with a soft brush and wipe down with a slightly damp cloth.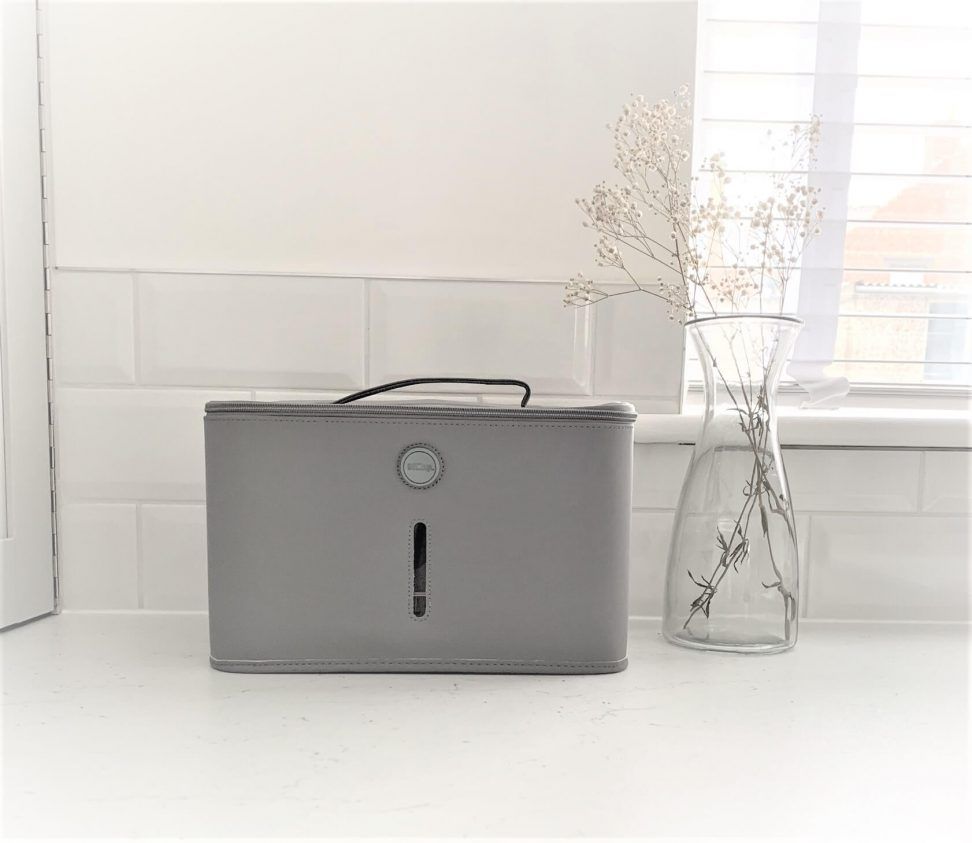 Where can I donate toys near me?
If you want to donate a pre-loved, lightly used toys or buy one brand new for a child in need, there are a number of options:
Charities: Charities such as the Salvation Army and Barnardos will take toys but call and check first before you drop them off in case the pandemic has altered their policies.
Local online groups: Facebook is awash with local selling pages and recycling groups. Check out community pages nearby to see who would be suitable for your donation.
Local recycling centres: Many recycling centres have special areas for donated toys and books where you can drop your items.
Nurseries or daycare groups: Local nurseries and daycare centres may be grateful of your support. Call first to see if they would like your donated toys.
---